=
Are you a good storyteller if yes then you can be a good leader as well!
Leadership essentially is an act of urging of winning hearts and minds, of engaging people in the vision, goals and everyday work of an organization. 
A well-told story not only transmits important information, it helps the listener to understand what the information means and put it in a context that she can connect with on a deeper personal level
A leader gives essential direction, focus, and prioritization for a company. A reliant organization is a slow and risky one because the leader acts as a bottleneck
Stories are not just for children and it important for leaders to realize the impact that stories can have in our lives. Good storytellers engage us. By communicating their core messages as stories, leaders can more effectively engage their organizations and teach them the concepts, ideas and strategies needed for success.
The key to being successful in rapidly changing environments is being able to adapt and learn.
The storytellers shun the dependency trap by transferring knowledge and skills to members of the organization in a format that strengthens learning.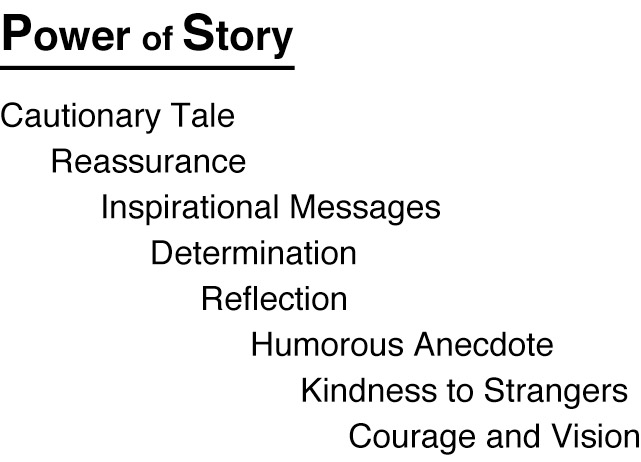 Stories are not experienced as lectures or commands but instead engage our curiosity and engagement. As people develop their skills and adapt successfully to change, their sense of self-efficacy, confidence and enjoyment increase.
Stories are best delivered in an informal and intimate manner.
Remember the characteristics of a good story:
A single theme, clearly defined
A well developed plot
Style: vivid word pictures, pleasing sounds and rhythm
Characterization
Faithful to source
Dramatic appeal
Appropriateness to listeners