When it comes to service as you all know quality cannot be measured as far as services are concerned. Hence in such conditions there will be moments wherein you find your customers not getting satisfied with your services some may even come up with complaints now the question is how to handle them all?  Today's smart businessmen have developed for policies to cover this section too. Really Smart! No matter the size of business or the product or the price every business possess such polices to handle consumer complaints.  Complaint management enhances a firm's reputation builds consumer confidence and loyalty and attracts new customers.  Customers who complain about products or services continue to shop with the business and buy the products they complain about - if they believe the complaint was resolved fairly.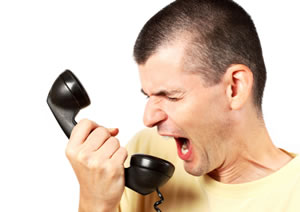 The result of managing the complaints effectively can be augmented sales, enhanced products, enhanced personnel performance, and business efficiencies. Complaints are an low-cost source of market research. When properly compiled, complaint data can indicate how consumers interpret your advertising, how products and services meet consumer expectations, and how consumer information can be improved.
Business policy on refunds, exchanges, and repairs will vary, of course, depending on the nature of the product or service, the terms of the purchase, and other factors are put in writing and communicated to personnel. In small firms, owners and managers should be personally involved in customer relations on a regular basis. In larger companies, a separate department may be established to operate a complaint management system and evaluate consumer response to products and services.  Develop empathy or show concern for the customer. Ask questions to identify and analyze the problem.  Settle on in a just manner what you are responsible for and initiate some positive action to remedy the situation.
Keep a record of complaints and planned action for resolution. Complaints should be studied, followed up and tabulated periodically to determine trends.
Informing consumers of their responsibilities can help avoid misunderstanding and needless complaints. Counsel the consumer to carefully read product writing, use and care instructions and terms of the sale. Complaints and its trends inform a businessperson how to do a better job by alerting management to problems which need prompt attention and correction.
Direct, swift, and informal complaint resolution at the place of purchase is advantageous to all concerned. It will usually be easier, quicker and more economical than if the consumer has to contact the manufacturer.
In cases where complaints cannot be resolved directly between consumer and retailer, an unbiased third party may be used. Some consumers and businesses may use various agencies and the courts.
There is no single formula that will provide universal relief for dissatisfied consumers. However, fair, courteous and prompt complaint handling will improve the chances of the customer remaining loyal to your business.