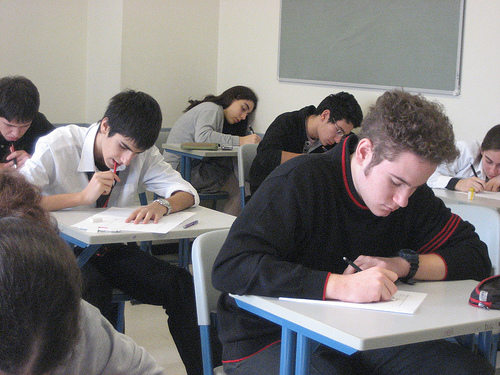 I have heard lots about IQ and EQ and read a lot on the same, but haven't appeared any of the IQ tests till date. Hence there lies a substantial doubt regards these tests as in the results that we get to know the reality is it just our perception, because the strong point that I possess to defend the validity of results is like "the answers of the aptitude tests are purely based on perception analytical ability and you never know what are your thoughts and opinions at the time of the tests as a matter of fact human thought and opinions vary according to their moods, surrounding, situation and various other factors to quote " when even the above statement is a fact and when we lay in different moods and get our results depicting other part of our own behaviour seems to be quite unfair. Hence we deny the results as well as the tests and its validity. The trust and confidence as well as the morale and motivation often lower viewing the results.  Hence to know more about IQ and its relativity I did a research on IQ as well as the scientific base that is in relation to it. I got to know the following:
Your IQ is a more or less objective measurement of your ability to process various types of information in an intelligent way. A high IQ is a real confidence booster Although IQ tests are not that popular, they have been known to predict important outcomes for decades.  Psychologists have also been studying the validity of IQ tests as predictors of job performance.
Recent data show that almost 50% of individuals will be self-employed at some point, and more and more people are engaging in entrepreneurial activities -- in industrialized nations, this increase has been triggered by recent or current recessions; in developing nations, this is triggered by a love of capitalism and a recent or current economic boom.
Our prediction is that the correlation between IQ and career success will be lower in entrepreneurial than in traditional job careers, such that IQ should matter more in conventional jobs and for those who are employed.
While giving IQ tests the following scores are considered along with their grades

Over 140 - Genius or near genius

120 - 140 - Very superior intelligence

110 - 119 - Superior intelligence

90 - 109 - Normal or average intelligence

80 - 89 - Dullness

70 - 79 - Borderline deficiency

Under 70 - Definite feeble-mindedness

 

Good IQ score is subjective. Raw score is what a person scores when he/she answers the questions correct.

Common characteristics in areas such as family background, childhood experiences, core values, personalities and more turn up time and time again in studies of entrepreneurs. I believe it's not the IQ that decides the success or failure rate in business; it depends on you as to how you take initiative or efforts to take your venture ahead.  If your primary motive is to acquire wealth rather than to create and add value, then you've started off on the wrong foot.

The core purpose of entrepreneurship is not the accumulation of money but the creation of value-adding products that will help make the world a better place for all.

As an entrepreneur your success or failure will be as a result of how well you maximize your strengths. Your strengths are those activities you naturally enjoy doing and would naturally do for free your entire life if necessary.

Don't allow fear of failure hold you back, do the thing you fear and the death of fear is certain.

The essence of entrepreneurship is to perpetually be of service to humanity. Not having this consciousness is the reason why most entrepreneurs fail in business.

The entrepreneur on the path to failure is the one who is extravagant -the habit of being excessively flamboyant, wasteful or spending money irrationally.

A good way to avoid being extravagant is to classify your expenses into two categories; urgent expenses and Important expenses. Your urgent expenses are your recurrent expenses, meaning they are periodic in nature.

I do agree that intelligence is a powerful tool. Do not underestimate people with average IQ. People like Henry Ford have been successful. So be cautious when you exaggerate the importance of high IQ.