Other Articles by: SushobhanSanyal

AESOP FABLES – STORIES AND THEIR ANALOGIES IN THE BUSINESS WORLD - PART 1
BUSINESS ETHICS VS. SOCIAL RESPONSIBILITY
Gyaan of the Week
JAPANESE ECONOMY TSUNAMIZED
MY EXOTIC LOVE AFFAIR WITH MP
A LITTLE INFO ON GOOGLE
Beginning in 1996, Stanford University graduate students Larry Page and Sergey Brin built a search engine called "BackRub" that used links to determine the importance of individual web pages. By 1998 they had formalized their work, creating the company you know today as Google. Since then, Google has grown by leaps and bounds. From offering search in a single language we now offer dozens of products and services—including various forms of advertising and web applications for all kinds of tasks—in scores of languages. And starting from two computer science students in a university dorm room, we now have thousands of employees and offices around the world. 
"The perfect search engine," says co-founder Larry Page, "would understand exactly what you mean and give back exactly what you want." When Google began, you would have been pleasantly surprised to enter a search query and immediately find the right answer. Google became successful precisely because we were better and faster at finding the right answer than other search engines at the time. But technology has come a long way since then, and the face of the web has changed. Recognizing that search is a problem that will never be solved, we continue to push the limits of existing technology to provide a fast, accurate and easy-to-use service that anyone seeking information can access, whether they're at a desk in Boston or on a phone in Bangkok. We've also taken the lessons we've learned from search to tackle even more challenges.
Founders Larry Page and Sergey Brin named the search engine they built "Google," a play on the word "googol," the mathematical term for a 1 followed by 100 zeros. The name reflects the immense volume of information that exists, and the scope of Google's mission: to organize the world's information and make it universally accessible and useful. 
Search is how Google began, and it's still at the heart of what we do today. We devote more engineering time to search than to any other product, because search can always get better and faster at helping you find what you want, when you want it, where you want it.(Data Sourced From Google)
This is simply an amazing peice of work. The amount of hard work and preciseness needed to dish out such an extravagant work is simply beyond imagination. Just enjoy this inforgraphic in full detail as it threadbares in front of you the mechanices behind the working of google.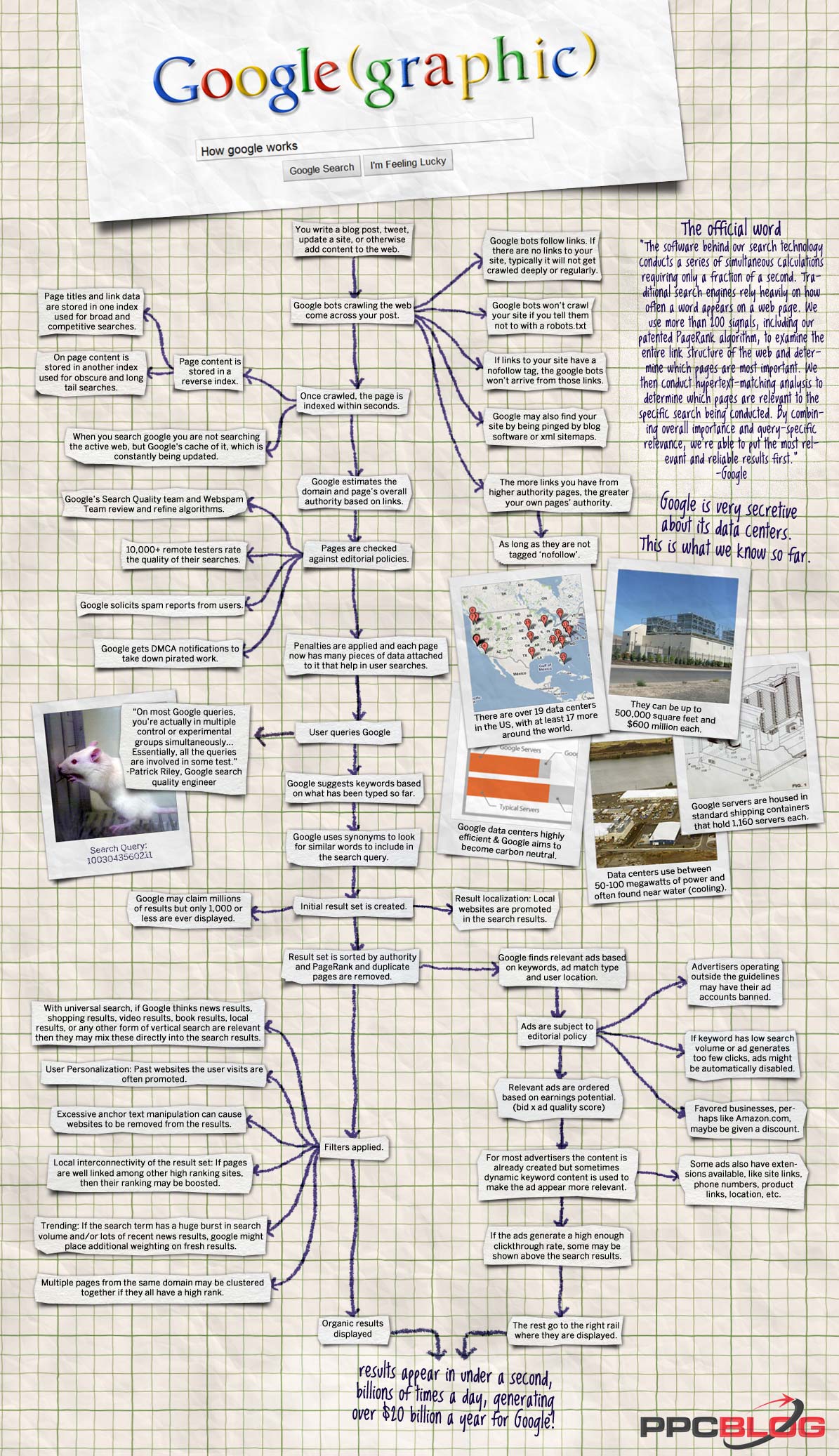 Image Sourced From Ppcblog